funny, music, pictures, recording, true, Washington, Yakima
No Comments »
When I was about eighteen years old, my friends and I had been writing songs for our first band.  We had about fifteen or twenty songs in various degrees of completion, and we'd been recording demo versions of them on a four-track cassette recorder.  There were lots of other short song ideas, some of which were done with our tongues firmly planted in our cheeks, but we definitely learned a lot about the recording process, and how to make instruments work together in a song.  In retrospect, it's easy to see that that's where I learned many of the musical skills I still use today.
What had started as a two-person group had morphed by then into a five-person group, and we felt it was time to make some professional recordings that reflected and showcased our new members.  I went to the phone book, called a studio that seemed promising, and booked some time.  The studio owner and I would turn out to be pretty good friends, but he was also one of the most enigmatic people I've ever known.  He has used multiple versions of his name throughout the years of his professional careers, so in the interest of anonymity, I'll go ahead and refer to him as Enigma from now on.  He was always a jack-of-all-trades, and he dabbled in music, photography, and even acting.  In fact, here's a recent profile picture from that online movie database.  I suspect this was taken on a film set, but that's how he used to dress all the time, right down to the bandana.
He owned a small recording studio in CityOfAngels and had recently relocated to Yakima to take care of his aging mother, as well as to live on the cheap for a while.  I don't mean to paint him in a negative light, or give you the impression that he was in any way a bad guy, because I don't think he was.  He was just very mysterious, that's all, and though we knew each other for years, I never felt like I knew him very well.  He seemed to have lots of secrets, and he liked to live off the grid.  He had inherited a bit of money, so he bought a bright red Toyota four-wheel-drive pickup, loaded his camping gear and his two white Siberian huskies, and floated between Yakima, AngelCity, EmeraldCity, and NearestLargeCanadianCity.  He kept his lifestyle simple, so that he could pack up and leave at a moment's notice.  And he would, too.  He would disappear for months on end, and none of his friends would hear from him.  He'd turn up like nothing happened, with no explanation for his time away.  Everyone suspected that drugs were involved somehow, but he claimed not to use or sell them.  In fact, he was a very health-conscious guy and a long-time vegetarian, well before vegetarianism was de rigeur. I'm not saying that vegetarians aren't capable of doing drugs—they certainly are—but I spent enough time with him, at all kinds of crazy hours, that I like to think I would've noticed anything out of the ordinary.  Who knows.
He met one of my college friends, a beautiful blonde girl, at a party one night, and asked her to be his 'assistant', since she already had a boyfriend.  She reluctantly agreed, and she answered phones and kept his books and all sorts of other thankless tasks, while constantly rebuffing his romantic advances.   After a few weeks of working for him, she asked me, "What does he do?  For money?  I don't do much all day, and he hardly gets any business.  I don't get it.  Does he sell drugs or something?"
"I don't think so," I replied, "but nobody really knows for sure.  He's so hush-hush about his life."
She gave me a conspiratorial smirk.  "I think I'm gonna try and find out.  You know, I'll 'get close' to him and stuff."   I thought the idea was hilariously diabolical, and told her so.  It just might work.  I told her I would do my part to pry information from him too, to the extent that I could, and we both pledged to share whatever we found out about him with the other person.  We both came up empty-handed, and he disappeared from town again.
Enigma was a bit of a conspiracy theorist, and a self-professed 'huge fan' of Area 51 and UFO's and all that.  In fact, in the outskirts of Yakima is a top-secret NSA listening station which can be briefly glimpsed from the freeway up in the hills just north of town.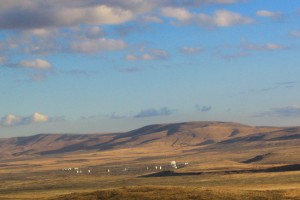 (photo taken from Creative Suggestions' Flickr page)
Like I said, it's a top-secret installation (one of many in the Yakima area), and if you try to drive out there, you'll be stopped by soldiers in jeeps, with guns.  Enigma called them on the phone more than once, and when they asked who he was and why he was calling, he was shockingly candid.  "Well, I'm a big fan of secret government operations, and I'm an American taxpayer and a concerned citizen, so I was just hoping to find out what you guys are doing out there."  As if they're gonna roll out the red carpet for him and invite him on an all-access tour.  "No comment," he was told, and the connection was terminated.  So he tried driving out there, with similar treatment from the soldiers in the jeeps.  "Turn around and go home," they told him.
This entry is meant to provide context for the next couple of stories I'm going to tell about Enigma, each of which is fairly long in its own right, so I thought it best to break them up and give each one its due, rather than cram them both into one mammoth entry.  Besides, if I think of more stories, then adding them individually is definitely the way to go.  In order to tantalize you, I will say that one story involves an arson fire that destroyed the largest music store in town (Enigma's second studio was located in the basement), and the other involves Enigma, my bandmates, myself, and a singer getting shot at.
To be continued.