beautiful, blogging, funny, music, pictures, true, Washington
October 19th, 2008
And now, finally, here's the entry describing IrishBand's trip to Port Townsend earlier this month.  As you may or may not know, the other two guys in the band are PT natives, so each trip back is loaded with memories and emotions for them, and new memories and good times for me.
We drove up there early on Saturday morning, the plan being to arrive early enough that we could meet up with friends, eat pizza, and wander around town to look in the shops and see the sights.  The Plan quickly seemed to evaporate, however, as phone calls went unanswered and shops weren't open.  We did manage to connect with Dan and Julie, who grew up in PT but lived in Portland until recently.  We visited them at the extremely unusual house they're renting, which is also a place that Singer lived a few years back.  I wanted to take pictures of everything, but I thought better of it because it was our friends' place.  Maybe next time I will.  We're planning to go up to PT more regularly.
So after that, we were a bit at a loss as to what to do next.  We'd already explored the town, and most of the shops were closed, so when in Rome, you do as the Romans do on a slow Saturday afternoon. . .which in Rome means that you see the sculptures and ruins and art, but in Port Townsend it means that you're probably going to end up at a bar, which is what we did.  Singer, Singer'sGirlfriend and I killed a bit of time in there until Violinist arrived in town.  We also spent a good bit of time in a bookstore after that.  Incidentally, that's where I picked up a copy of Invisible Man, which I wrote about in this entry.  We ate at the amazing Waterfront Pizza, and that's about when Violinist arrived.  He suggested that we drive out to the lighthouse and watch the sunset, which was beginning to look like it could be a very memorable one.  We locked our instruments in a closet at the venue, and then loaded ourselves into the car and headed up the hill along the winding streets of the town.
Here are some pictures of our evening at the beach.  You can click on them to make them larger.
The tide happened to be high while we were there, and the waves were crashing against the rocks, sometimes splashing clear up next to the lighthouse.  I wasn't able to capture any of the huge ones on video, unfortunately, but this will give you at least a sense of what it was like.

Ahhhhh. . .so nice.  I could watch that all day.
From there, we went back to the venue to set up and eat dinner.  They provided us with pizza, salad and as many drinks as we wanted, within reason.  Nice place, that Sirens, and don't let anyone tell you otherwise.  Their sound system, however, leaves a bit to be desired.  We started to set up, and were told that they don't have any microphones anymore.  Luckily I had brought one, and we managed to scrounge up a toy one from the back room, so all was not lost, but it certainly sounded much worse than usual.  In fact, about two-thirds of the way through the show, after struggling with the PA the entire time, we said a collective 'screw it', and decided to pretend that it was 1885 or something, and just play acoustically and have fun.  We walked with our instruments and played in various parts of the bar, including the hallway, and then went back to the stage for the rest of the set.  There was some floor space near the front, so two people took the opportunity to do some wild Irish dancing around the room, which made for a fun ending to an otherwise problematic show.  We left around one a.m. and stayed out at Violinist's parents' house, like we did last time.  They were excellent hosts, as usual, and they made an amazing breakfast for all of us. . .hearty pancakes with raspberry sauce, applesauce on the side, veggie sausage, and all the coffee and tea we could handle.
Incidentally, I learned that not only was the movie Snow Falling on Cedars filmed in Port Townsend (among other places), but also that a couple friends of the group were extras in the film.  They played Japanese-American kids (because that's what they were at the time; they're all growed up now, and are Japanese-American adults) who were walking onto the boat as it was leaving to take the families to the internment camps during World War II.  I loved the book, and thought the movie was just okay, but I put it on my InternetFlicks queue to see what there is to see of PT and our friends.
The next morning was a special annual event in Port Townsend called the Kinetic Race.  It's not really a race as much as a chance for people to show off their ingenuity.  The 'kinetics' are these odd contraptions that are somewhere between bicycles, kayaks, boats, and cars.  They have to be built along a set of guidelines.  They must be human-powered (no motors of any kind), and they have to be able to travel on the street, in the water, on sand, and through mud.  Our little group congregated right along the waterfront, sitting or standing on the rocks, to watch the street-to-water portion of the event.
The vehicles were absolutely ingenious.  Here are pictures of most of them.  Like before, you can click on the pictures to enlarge them.
The Art-Not-Fear trio (Fear-Not-Art?  Not-Fear-Art?  Fear-Art-Not?) was struck by tragedy when Not capsized on the other size of the pier, and the driver/captain had to be rescued by the sheriff.  The guy wasn't hurt, luckily, but the kinetic looked a bit worse for wear when we saw it on the shore later.  Incidentally, the picture of the Cadillac sticking out of the water, with "Fear Art" being the obvious caption, was just too priceless not to capture.
The plastic replica of a 1963 Cadillac started out as a crowd favorite, but I'm not sure how many friends they made that day, because they rolled down the ramp so fast that they slammed into the guy in the water in front of them, and he had to use his arms to push himself away from the car.  Which is okay, accidents do happen sometimes, but later on, it seemed to have a bit of difficulty in the water, and it even needed to be towed about halfway through the course.
The one below was my personal favorite of the kinetics, because of its simple, clean, economical design.  It's also the one that ended up towing the Cadillac.  Just another example of the fact that simplicity is always best.  It went into and out of the water effortlessly. . .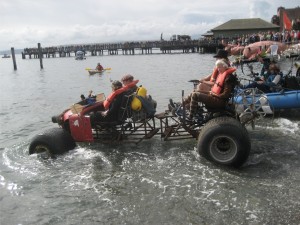 . . .unlike the one below, which seemed overbuilt and awkward.  It took a great deal of shifting things around, both going out and coming in.  It did really well in the water, I have to say, but it sure looked like a lot of wasted energy.
The Magic Bus was far and away the crowd's favorite, and huge cheers erupted as it rolled down into the water:

I took a video of each kinetic coming back from the water and up the ramp, but that would be ridiculous overkill, so I narrowed it down to two.  The first video shows two of the fastest transitions from water to road (again, due to their excellent design), and the second video shows three or four different people coming in around the same time (including the guy who got hit by the Cadillac), so you can really see what the various kinetics are like in motion.  The second video is a bit long, but it's definitely worth watching the whole thing.
After about two hours of hanging around and watching the kinetics, we started to get hungry, so we walked back up to Waterfront and had a slice of pizza (third time having pizza in two days!).  By that time, we were all starting to fade out, and we decided to drive back home to Portland.
The trip was a total blast, as usual.  I love PT, and I'm really glad to have the opportunity to spend time there regularly, and to meet so many of the cool people who live there.  I feel like I'm starting to get to know the place by now.
The only bummer about the trip was that the Tyler Street Coffee House is no longer open on Sundays.  I have to go on record and say that this makes no sense to me at all.  It's the best coffee and pastry shop in town (nay, the WORLD. . .there, I said it) and it's been a highlight of past visits.  We didn't make it there last time, so we were very much looking forward to renewing our love for the TSCH.  Alas, it was not to be.  Next time, however, we're planning to come up on a Friday so that we can partake of the wonderfulness that's created there.
Just thinking about it already makes me happy.
Leave a Reply