beautiful, blogging, love, music, pictures, true
June 19th, 2012
I don't quite know where to start.
There have been a number of things happening recently, the biggest of which was a musical trip to New England, which included my first trip to New York City, which seems to have changed something in me.  If you've never been there before (or even if you have—ha ha), the scale of everything is enormous.  There are people everywhere, from everywhere.  Every place you go is crowded.  You can stand on one street corner for just a few short minutes and you may very well hear people speaking ten or fifteen different languages within that time.  Most impressive of all, however, is the scale of the architecture and infrastructure.  It's staggeringly huge.  You can start in one part of the city, get on a subway train and ride for an hour, and when you get back up to street level, you find that the buildings are still crammed together as far as the eye can see.  Parts of San Francisco are built up densely like that, but not nearly as tall, and only in small parts of town.  New York goes on and on for miles in all directions.  Somehow it manages not to be overwhelming, though, and I actually found myself energized by the bustle.  Every street seemed to be associated with a song title, or a movie scene.  Here's a picture from the beautiful West Village.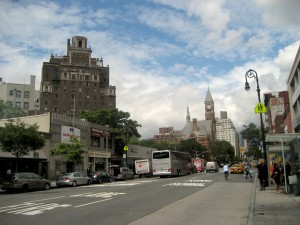 My goal for NYC was to see as many of the various neighborhoods as I could.  Obviously we spent the majority of our time in Brooklyn, but I had a few days to get out and explore, either on my own or with the help of one of my long-time blogging friends.  A lifelong Brooklynite, she was very familiar with the city, and she was a fantastic tour guide and host.
At some point, I'm going to want to recount the stories and pictures from the rest of the trip, but my head is still buzzing from it all and trying to make sense of everything I saw, and all of the interesting and lovely people I met, so for now you'll have to settle for some pictures.  You can click on them to make them higher resolution.
I happened to be underneath the Brooklyn Bridge at the same time as this yacht (I think it's a yacht; I have to confess that I don't know much about boats, but I DO know that it's one of the racing ones) was passing by, and another photographer and I were taking full advantage of the situation.  I love this picture, and it's probably my favorite one from the entire trip.
From there, I walked across the bridge to lower Manhattan, all around the Financial District and to the site of Ground Zero and the new World Trade Center.  Here's one of the new towers, in a late stage of construction.  I love pictures like this, because once the thing is built, you never get to see it 'in progress' ever again.  I feel lucky to have been there to see it and take this picture before it was finished.
This was a sticker I saw on a traffic signal pole in Greenwich Village near the Village Vanguard.  It may be blurry, but the message is clear.  I spent the whole trip with my camera—and indeed my entire brain—in 'record' mode.
After going full speed ahead for so long—and I haven't even started writing about the Louisiana or Bay Area trips yet—I've found it a bit difficult to transition back into the 'normal' pace of life, whatever that is.  You could call this feeling the Post-Travel Blues.  Joseph Campbell might call these feelings 'peak experiences', which is to say that when people are operating at their highest levels of consciousness, the things they experience gain a certain amount of gravitas and significance, and settling into everyday life after times like those can be difficult.  I daresay that Maslow's Hierarchy of Needs would support this theory.
I think—and this is me thinking—that when you're in the upper levels of Self-Actualization and Esteem, it's hard to be excited about everyday things like homeostasis and excrement.  When you're traveling, you're pulled out of the lower realities and pitched into the higher ones, which is what makes travel so exciting.
Incidentally, I just knew that I'd have to mention excrement at some point.  I had to drag this conversation down to my level, didn't I?  Abraham Maslow, Joseph Campbell, and excrement.  I really should have named this blog High and Low.
Anyway.
There's more to come on the blogging front, and while I was coming back from the beach this weekend, I thought of a few stories from back in the day that I think will be worth your while, so stay tuned.  Don't touch that dial or whatever.  We'll be right back after this important commercial message, courtesy of someone I photographed in Central Park.
One Response to "The City"
Sarah Says:
June 20th, 2012 at 9:59 pm

Nice to see the pics–especially fisherman guy.
Leave a Reply