blogging, music, pictures, recording
May 21st, 2012
So let's see. . .it's been a while since I've written anything, despite my friend reminding me that I promised—on this very blog—to write more and tell more stories this year.  I'm attempting to hear and obey, and I have a ton of stories, since I went to Louisiana and the Bay Area for gigs recently.  My silence around here definitely isn't due to a lack of material, it's due to busy-ness, mixed with inertia, mixed with, um, something else that I can't quite put my finger on.  It's created an overwhelming backlog of stories to write about, which is also part of the problem.  I don't want to dump a ten-thousand-word novella on you, so I'll have to figure out a way to break up the stories into more manageable lengths.  I've had a couple of friends make fun of me recently for posting such gigantic entries.  More often,  however, they've made fun of me for not posting anything at all, so there's that.
Major news on the music front.  My band (which I might call GhostBand for BFS&T's sake) just finished mastering our CD, after I spent the last few weeks recording the last few parts and then mixing the entire album.  In case you were wondering, mastering is the process by which the 'master' CD is created, from which all of the future CD's will be copied.  It's the stage of the process in which the songs are officially named, put in album order, and a combination of some technical stuff (equalization, compression and limiting) to make the songs all play at the same volume level and make the individual tracks sound like a coherent collection.  It's one of the many underlying but crucial steps along the way, and now it's done.  Mastering is a process that began with vinyl records, because if there was a section of a song that was too loud, or if a sudden low-frequency instrument like a drum or a stand-up bass was too loud, it would make the record skip, or it could damage speakers.  Mastering is a way to smooth everything out, and to eliminate unwanted fluctuations in the overall sound and flow of an album.  CD's are more forgiving, certainly, but the process is still important, and it really enhances the overall sound.  Our next steps will be to get the thing duplicated (we're getting a thousand CD's made), and to design the album cover.  Exciting!  I can't wait to get this thing released into the world, so that you and everyone else can hear it, love it, and buy it.
We also filmed a video for one of the songs.  Can't show it yet, because we're waiting until the album is a bit closer to its release date in August, but it's done, and it looks amazing.  It showed in a music video screening at the historic Hollywood Theater here in Portland a month or so ago, and that was the first time any of us had seen the finished product.  Our minds were completely blown.  It's supposed to look (which is to say that it does. . .ha ha) like it was filmed in a night club in 1959.  We all dressed in period clothing, thanks to the costume designer; there are various characters (each with their own miniature stories), dancers, and choreography, and it's absolutely stunning to watch.  Very distinctive, and it's all somehow crammed into the framework of a three-minute song.  The filmmakers did a brilliant job.  Okay, okay. . .I CAN share a still from it.  FYI, I'm in the back left, with the vest and red tie, playing the electric guitar.
Pretty swanky, eh?  We used KickStarter to fund this whole process, which is a short way of saying we worked our asses off for an entire month, playing as many gigs as possible, making short promo videos, and generally promoting ourselves in every way we could think of.  And it worked.  We raised enough to pay for the video, and to finish the mastering, duplication and design of the CD.  We also will be paying for the rights to the two cover songs that will be on the album.
At the same time as all this was happening, FrenchSinger and another friend on whose CD I played cello had their own CD release parties a week apart, right before the Louisiana trip, so there was the obligatory flurry of rehearsals and craziness getting ready for those as well.
                                       
    
    
As if that wasn't enough, there was the photo shoot and KickStarter video for PolishCellist, who is about to start working on her next CD.  Certainly can't forget about that.  What a hilarious and awesome photo session that was.  And yes, that's a buffalo-head hat that we're all wearing.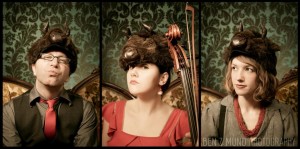 So that's the biggest news.  I still have to go through my mountain of pictures from the band-related stuff, and from the trips to Louisiana, California and Washington (the state) with FrenchSinger.  Hopefully, I'll be able to get some entries posted before my next musical trip, which is in a couple weeks and will take me to New York, Massachusetts (including the town where I was born!), and a dip into New Jersey as well.  Super excited, since I haven't been back East for quite a long time, and many of these places—notably New York City and Ithaca—I've never been to before.
I should mention how grateful I am to have the opportunity to travel, and to play so much great music, and to be in videos, and to have photo shoots.  It's a huge honor (not to mention expense) to be a part of these various endeavors, and I owe even more thank yous to my friends and collaborators who continue to make it all possible.
More to come.
Leave a Reply